Laost otsas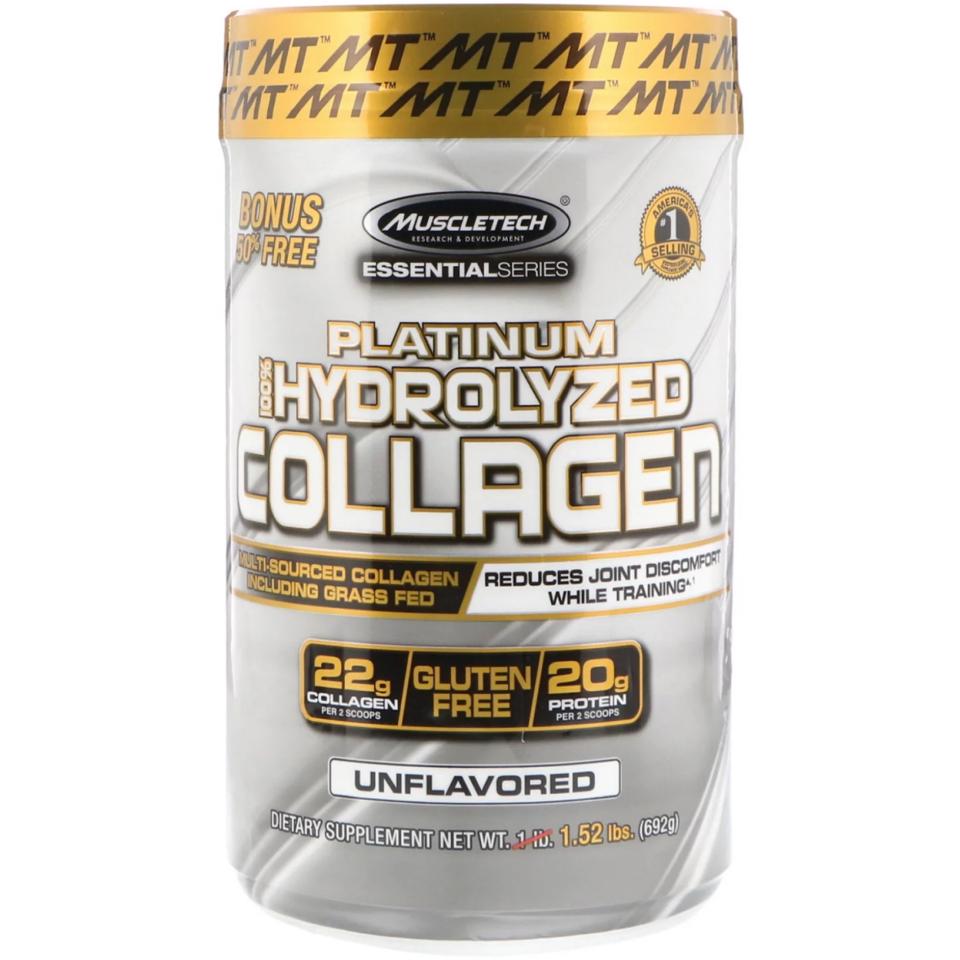 Zoom
Superior Science. Superior Results.

Research & Development

Essential Series

America's #1 Selling Bodybuilding Supplement Brand♦

Multi-Sourced Collagen Including Grass Fed

Reduces Joint Discomfort While Training1

22 g Collagen Per 2 Scoops

Gluten Free

20 g Protein Per 2 Scoops

Dietary Supplement
MT Superior Science. Superior Results
MuscleTech Essential Series delivers all your favorite ingredients and products with the best science, taste and value. Essential Series products are staples for every athlete, with no frills and no fillers - just products you can trust backed by the best brand in sports nutrition!
Many supplement companies don't fully disclose their ingredients. They also don't invest in science, research or quality control. At MuscleTech, a portion of every dollar spent on supplements is allocated towards funding scientific research. This means you can trust Essential Series for superior quality and results, as is the MuscleTech promise.
With Fortigel for Scientifically Formulated Joint Support for Athletes
Besides supplying your muscles with amino acids that can be used for muscle protein synthesis, research suggests that when consumed daily, the specialized Fortigel hydrolyzed collagen peptide matrix found in Platinum 100% Hydrolyzed Collagen can improve activity-related joint discomfort in athletes.
Superior Collagen Formula
Multi-Sourced Collagen - Including Grass Fed

Contains Type I and Type III Collagen, Including Fortigel

Reduces Joint Discomfort While Training1

Flavorless - Mixes Easily in Shakes, Smoothies & More!

Water Soluble & Easy to Mix

Dairy Free

GMP Facility
1In fact, in a 12-week double-blind, placebo-controlled clinical trial, healthy athletes taking 5 grams of Fortigel collagen peptides daily reported a significant reduction in activity-related pain in the knee joint compared to subjects taking a placebo. Platinum 100 % Hydrolyzed Collagen contains the exact dosage and form used in the scientific research, which separates it from the competitors who may be using cheaper collagen peptides that are not clinically validated and backed by science.
Zdzieblik et al., 2017. Applied Physiology, Nutrition, and Metablism. 42(6):588-595.
♦MuscleTech is America's #1 Selling Bodybuilding Supplement Brand based on cumulative wholesale dollar sales 2001 to present.
Serving Size: 1 Scoop (11 g)

Serving Per Container: 62

1 Scoop

%DV

2 Scoops

%DV

Calories

40

80

Protein

10 g

0%*

20 g

0%*

Zinc (as zinc gluconate)

15 mg

100%

30 mg

200%

Sodium

25 mg

1%

55 mg

2%

Collagen Peptides (as Hydrolyzed bovine collagen peptides and Fortigel Bioactive Collagen Peptides)

11 g

†

22 g

†

*Percent Daily Values are based on a 2,000 calorie diet.




† Daily Value(DV) not established.
Typical Amino Acid Profile




(Milligrams per serving)

Alanine

900

Leucine

286

Arginine

750

Lysine

405

Aspartic Acid

589

Methionine

87

Glutamic Acid

1,120

Phenylalanine

164

Glycine

2,398

Proline

1,033

Histidine

73

Serine

343

Hydroxylysine

76

Threonine

201

Hydroxyproline

1,130

Tyrosine

47

Isoleucine

145

Valine

251
Mix 1 to 2 scoops in 1 to 2 cups of water or your favorite beverage daily.