Laost otsas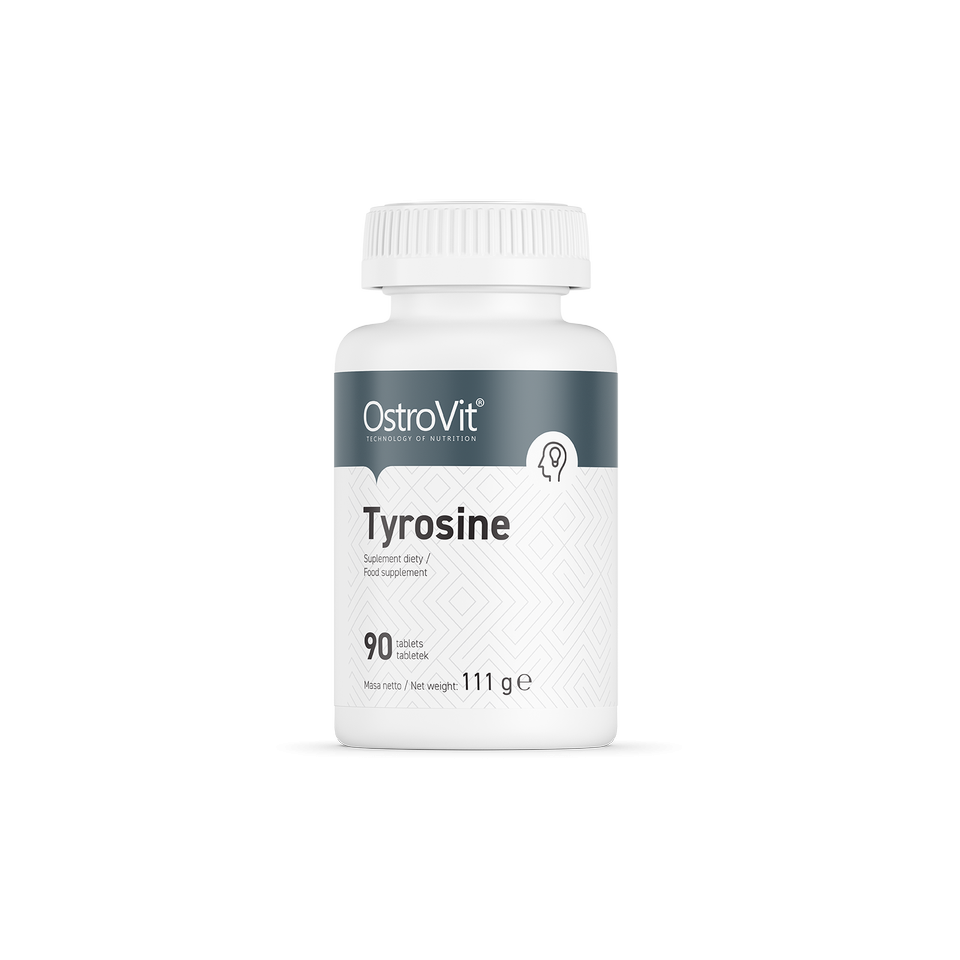 Zoom
OstroVit Tyrosine is a dietary supplement that is the source of the highest quality of L-Tyrosine. L-Tyrosine is an endogenous amino acid which is a precursor to neurotransmitters - dopamine and norepinephrine. These compounds are essential for the proper functioning of emotional processes and the coordination of muscle cells. L-Tyrosine is also involved in the synthesis of hormones. The product is perfect for reducing body fat, improves mood and can be used as a stimulant. The supplement is perfect for decreasing body fat, improving mood and can be used as a stimulant.
90 tablets of tyrosine in the package
It contains 90 servings
1 portion = 1 tablet
L-Tyrosine
It is an organic chemical compound that belongs to the group of protein amino acids. It is a very important compound that participates in the synthesis of such important catecholamines as dopamine or epinephrine (adrenaline). These are very important neurotransmitters that are strongly correlated with the appropriate concentration of tyrosine in the body. L-tyrosine performs the "nutritional" function of our thyroid gland. Its deficiency may cause its dysfunction, eg in the form of hypothyroidism, which causes a number of serious complications.
OstroVit Tyrosine properties
Being the forerunner of major neurotransmitters, it reduces the effects of physical and mental fatigue after hard physical activity
Provides a protective effect on our nervous system in states of chronic stress and exhaustion
Its supplementation is also a number of positives related to pro-cognitive activity. This means better concentration, better memory, better learning results
Supplementation allows you to better endure the side effects of long and heavy reduction diets, where our body is in a deep calorie deficit. It can lower blood pressure in severe stressful situations
Improves the mood by regulating the level of dopamine
Ingredients
L-tyrosine, fillers: microcrystalline cellulose, starch; anti-caking agents: magnesium salts of fatty acids, silicon dioxide.
The product may contain milk (including lactose), soy, peanuts, other nuts, sesame seeds, oats, eggs, crustaceans, fish.
Nutrition Facts
| Active ingredients | For a portion |
| --- | --- |
| L-tyrosine | 500 mg |
Use one serving 1-2 tablets daily 15 minutes before a meal.