Laost otsas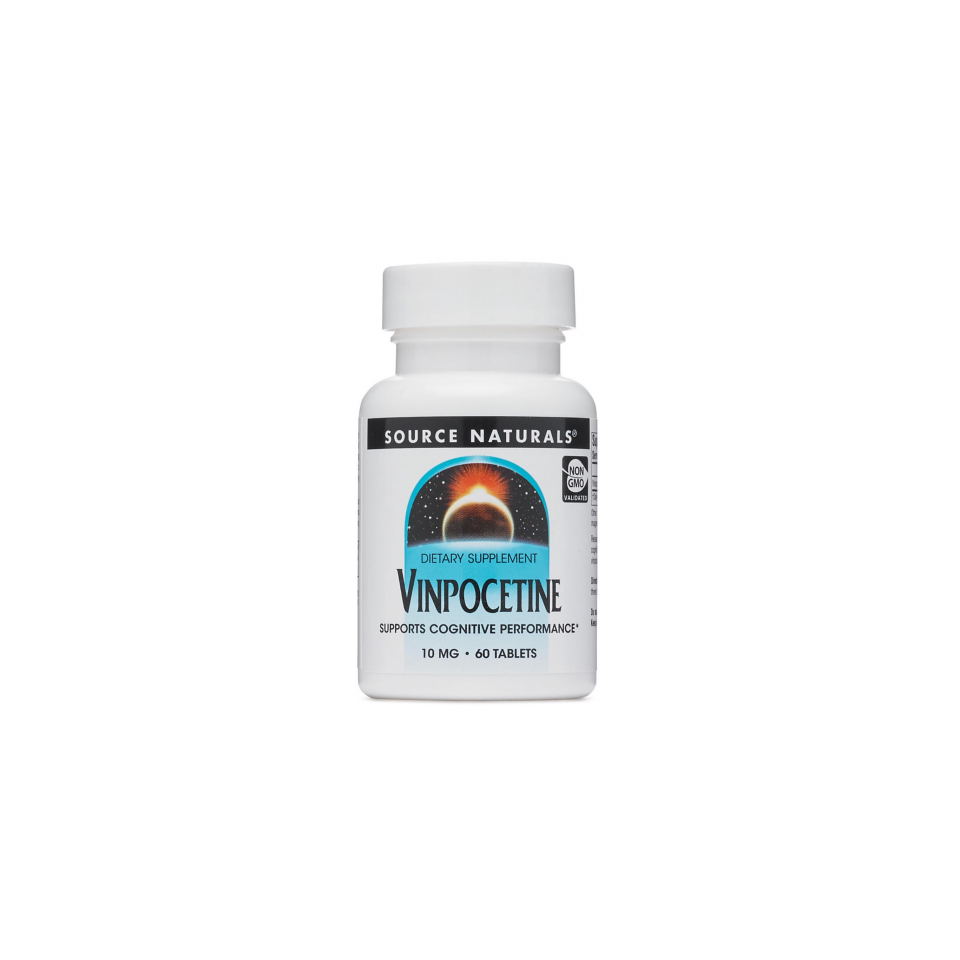 Zoom
Improves mental capabilities

Improves short- and long-term memory

Exhibits neuroprotective properties

Improves cerebral circulation

Facilitates concentration
Source Naturals Vinpocetine is a specialist product containing vinpocetine, a unique nootropic used in order to improve cognitive functions.
Vinpocetine is active in the area of cerebral blood vessels; it increases blood flow in blood vessels, improves glucose and oxygen management in cerebral tissue and contributes to the increase in cell tolerance to hypoxia. Thanks to that, it greatly improves memory, facilitates concentration and increases mental capabilities.
Vinpocetine is a semisynthetic derivative of vincamine, an alkaloid extracted from lesser periwinkle (Vinca minor). It has been used for years as support in treating various ailments, from epilepsy, through strokes, to Alzheimer's disease. In the last several decades, scientists have discovered that the compound is able to improve cognitive functions. It has been proven that the key to the improvement of mental capabilities is proper cerebral circulation.
How does vinpocetine work?
Vinpocetine's activity in the organism is mainly concentrated on improving cerebral circulation. By inhibiting phosphodiesterase type 1, the substance contributes to the dilation of cerebral blood vessels and the reduction of vascular resistance. Thanks to that, oxygen, glucose and other important nutrients can be smoothly delivered to the brain. Supplying brain cells with oxygen and essential nutrients is crucial for good communication between neurons and the improvement of brain functions.
Using vinpocetine has a very positive effect on the functioning of mitochondria. It is beneficial for the production of energy stored as ATP (adenosine triphosphate). More energy produced means better performance of the neural network. That, in turn, improves cognitive functions.
Vinpocetine is also a sodium and calcium channel blocker. It has been proven that the influx of sodium ions contributes to the increase in the number of cells falling victim to necrosis and apoptosis. The fact that vinpocetine blocks the channels proves its neuroprotective properties.
Vinpocetine can prevent the cytotoxic effect of glutamate and aspartic acid on neurons. Both aspartate and glutamate are major neurotransmitters. However, they are dangerous when in excess. They work as stimulating toxins; they stimulate nerve cells so strongly that the cells die.
Some scientists think that vinpocetine's mechanisms also have an effect on releasing such substances as serotonin, acetylcholine, dopamine and noradrenaline. They are key neurotransmitters responsible for a good mood, energy and motivation to act.
Benefits of using vinpocetine
Vinpocetine's complex activity makes it quite a versatile substance. By improving cerebral circulation and affecting cerebral metabolism, it above all contributes to the improvement of cognitive functions and memory.
Thanks to vinpocetine, you can remember new information easier and for longer. It also improves the speed of processing information and recalling memories. It facilitates concentration, affects the ability to associate facts, and the clarity of thoughts.
Research conducted in Great Britain has proven that people using vinpocetine felt an improvement of their cognitive functions as soon as after one dose. An improvement was observed in terms of concentration, and the speed of assimilating and remembering information. Because of that, vinpocetine is also used as support in treating Alzheimer's disease, dementia, strokes, as well as protection from the deterioration of cognitive functions, connected with the organism's aging.
Vinpocetine can be a strong base for mental health and help to prevent depression. Most people believe that anxiety-depressive disorders are caused by external factors. However, clinical studies have demonstrated that poor cerebral circulation can also contribute to nervous system disorders that manifest themselves through a lower mood or the feeling of anxiety. By improving cerebral circulation and stimulating the release of key neurotransmitters (dopamine, serotonin), vinpocetine helps to promote good mental well-being and prevents the occurrence of depressive episodes.
According to some scientists, vinpocetine stimulates neural growth, thanks to which it improves the brain's neuroplasticity. It is a feature common for all neurons and it means a greatly desired ability to remember, learn, as well as to adapt to new conditions.
Vinpocetine exhibits strong antioxidant properties. It neutralises free radicals, protecting cells from potential damage. It slows down the occurrence of brain cell aging symptoms. Vinpocetine's neuroprotective properties are particularly valuable, especially when it comes to damages caused by neurotoxicity. Research has shown that the substance prevents amnesia caused by some drugs. Vinpocetine can constitute a useful element of neurodegenerative disease prevention.
Vinpocetine is a supplement recommended to those who seek a safe and efficient agent improving mental capabilities. The product's benefits will please particularly those who have noticed memory and concentration problems in themselves. The effects of the supplement will also be good for white-collar workers, who are inclined to heavy intellectual effort, and students.
Supplementing Vinpocetine can contribute to a greater speed of assimilating knowledge, associating facts and drawing conclusions. Thanks to the product's unique properties in terms of improving cerebral circulation, it can be helpful in supporting treatment after strokes, as well as an element of neurodegenerative disease prevention.
Supplement Facts

Serving Size: 1 Tablet

Amount Per Serving

% DV

Vinpocetine

10 mg

†

†Daily Value not established.
1 tablet 1 to 3 times daily with food. Do not exceed three tablets per day.