Laost otsas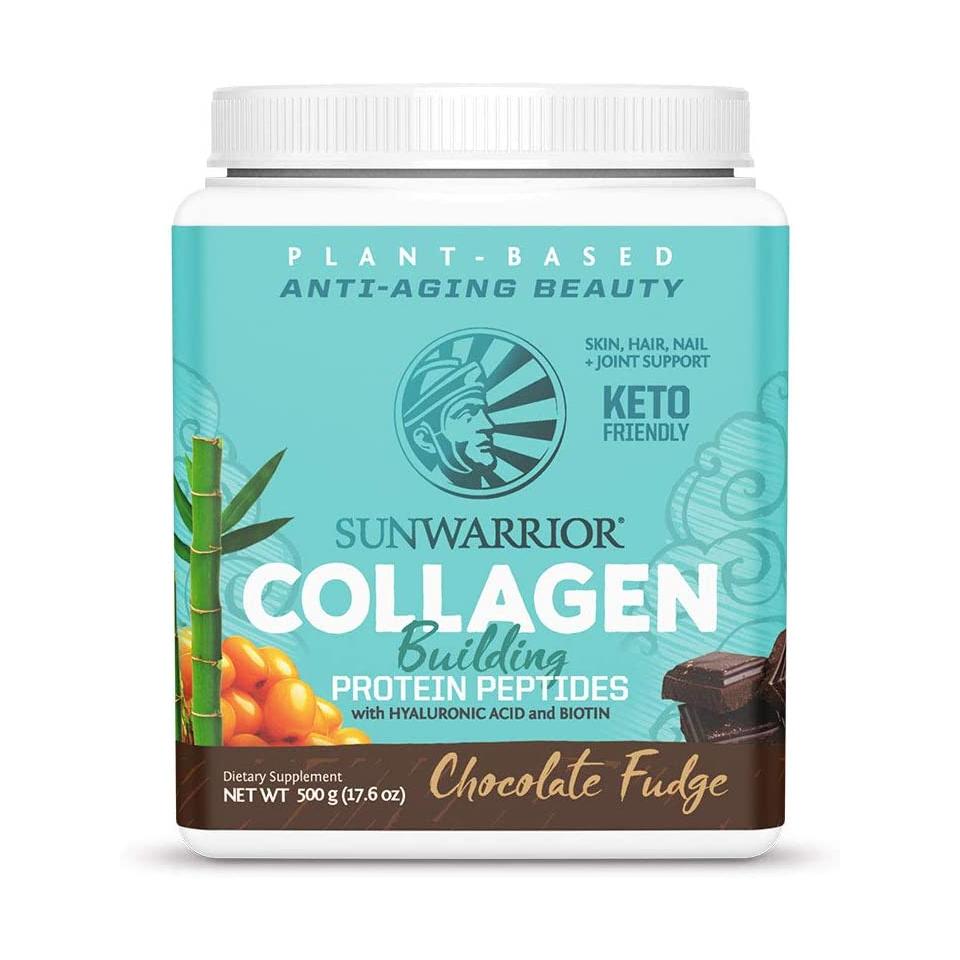 Zoom
Non GMO
Soy Free
No Sugar Added
Gluten Free
Dairy Free
Vegan
Anti-Aging Beauty
Skin, Hair, Nail + Joint Support
Plant-Based
With Hyaluronic Acid and Biotin
Dietary Supplement
No Hooves, Horns, or Hides
A Raw Superfood Company
Shine From Within
Pollutants in water, air, and food deplete our collagen storehouse making replenishment vital. A majority of collagen supplements come from the bones, skin, and connective tissue of animals, including cattle, fish, horses, pigs, or rabbits. Why ingest animal-derived collagen when your body is designed to generate its own? Sunwarrior offers the plant-based solution, tailored to boost your body's inherent collagen production. It's our inside-out approach!
Natural Collagen Builder
These superfoods have been formulated to build and enhance your natural beauty from the inside out!
Hyaluronic Acid - Enhances the body's ability to produce and use collagen for smooth, supple skin.
Minerals - Delivers essential minerals such copper, which regulates collagen I, II, IV and elastin.
Biotin - Increases growth of cells, promoting the strength of hair, skin and nails.
Kale & Spinach - Vitamins and antioxidants support your body's collagen production.
Vitamin C from Amla and Sea Buckthorn - A mandatory co-factor in collagen synthesis. 10x the vitamin C potency as oranges.
Tremella Mushroom - Rejuvenates and maintains skin elasticity. Promotes cell regeneration.
Silica from Bamboo - Bamboo is the riches source of silica for healthy bones, teeth, nails, and thick hair.
Spirulina - Nutrient-dense food, comprised of 65% amino acids; it makes for a powerful protein source.
Peptides from Rice - Building blocks of collagen production. Hydrates at a cellular level to nourish skin.
Supplement Facts (NATURAL)

Serving Size: 25 g (1 Scoop)

Serving Per Container: 20

Amount Per Serving

%Daily Value*

Calories

100

Total Fat

2 g

3%

Saturated Fat

0.5 g

3%

Total Carbohydrate

4 g

1%

Dietary Fiber

2 g

7%

Total Sugars

0 g

Includes 0 g Added Sugars

0%

Protein

18 g

36%

Vitamin C

90 mg

100%

Biotin

30 mcg

100%

Copper

0.22 mg

24%

Sodium

220 mg

10%

Hyaluronic Acid

100 mg

**

Silica

45 mg

**

*Percent Daily Values are based on a 2,000 calorie diet.




**Daily Value not established
Other Ingredients
Proprietary beauty blend (organic pea protein, organic brown rice peptides, organic whole sea buckthorn, organic tremella mushroom extract, organic kale, organic spinach, organic amla extract, hyaluronic acid, bamboo extract, organic spirulina, organic sesbania extract), organic guar gum, organic soluble rice bran, organic green banana, mct oil (coconut oil), trace minerals, contains coconut.