Soodus
Laost otsas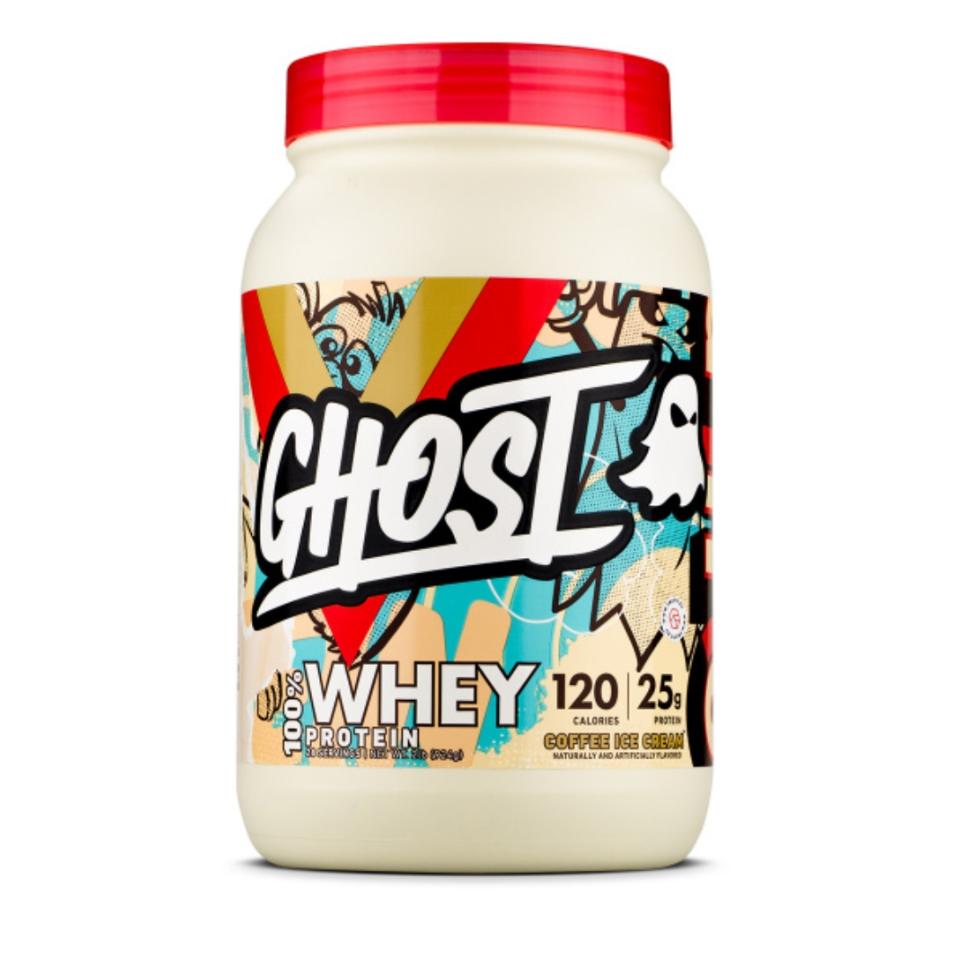 Zoom
Why GHOST Lifestyle Whey - Peanut Butter Cereal Milk flavour?!
Full Disclosure label
Unbelievably tasty!!
Unique Cereal Milk flavours
Super simple...super effective
Great in shakes, bakes...yogurt and oats.
Mixes instantly
Low Fat & Low Sugar
Added natural Digestive Enzymes
Gluten Free & Soy Free
Tubs look fu#!ing awesome!!
GHOST® WHEY is a no-nonsense protein powder that (over)delivers where it matters! Offering a versatile, premium 100% whey protein blend, it mixes well and tastes even better, staying true to all that's uniquely irresistible about GHOST's flavours, from classic Milk Chocolate (read: Chocolate Milk!) through to their trademark Cereal Milk®.
GHOST® Lifestyle had just one mission when it came to their WHEY...simple and, most of all, delicious. To this end, prepare yourselves to enjoy a 'Legendary', unparalleled taste experience in Peanut Butter Cereal Milk® GHOST Whey, all backed by a fully-disclosed tri-source whey blend (Whey Protein Isolate, Whey Protein Concentrate and Whey Protein Hydrolysate)...low carb and low fat...refreshing and effective.
What's GHOST Peanut Butter Cereal Milk® flavour like? Unique to GHOST, Imagine a bowl of one of your childhood-favourite Peanut Butter cereals (yes...sweet and sugary as you like!! We all made the most of being a kid!)...perhaps Reese's Puffs? Choc Peanut Butter Cheerios? Well...think of the milk left over once you've munched through all the nutty, crunchy cereal!! THAT is GHOST Whey Peanut Butter Cereal Milk!! Sweet, creamy and milky with a hint of honey Corn and a whole tonne of authentic peanut butter flavour (there's REAL peanut flour in there!). And, guess what? It puts that exact same smile on your face but, this time, it's got great nutritionals and supports your hard-fought gym #gainz! :)

With a whopping 26g protein per serving (and the added digestive enzymes to ensure you make the most of it!!), GHOST Cereal Milk® flavour WHEY is Gluten Free, Soy Free and truly 'Delicious AF' and will be equally at home in your shaker or your oats!!
It took a long time and alot of hard-work to bring GHOST® WHEY to the UK...it's time to find our what all the fuss is about!!
GHOST - WHEY Protein (26 serv) - Cereal Milk Ingredients & Nutritional Information:
Serving Size 1 Rounded Scoop (35.5g)




Servings Per Container 26

---

Amount Per Serving

% DV

---

Calories

140

---

Total Fat

1.5g

2%

Saturated Fat

1g

5%

Trans Fat

0g

Cholesterol

40mg

13%

Total Carbohydrate

4g

1%

Dietary Fiber

0g

Sugars

2g

Protein

26g

Salt

180mg

8%

** Daily Value (DV) not established.
Ingredients: GHOST 100% WHEY [MILK] Protein (WHEY [MILK] Protein Isolate 90% [Sunflower Lecithinated), WHEY [MILK] Protein Concentrate 80% (Sunflower Lecithinated), Hydrolyzed WHEY [MILK] Protein Isolate) [MILK], PEANUT Flour (Adding 1g Protein) [PEANUT], Natural and Artificial Flavour, Salt, GHOST Enzymes (Proteases, Bromelain, Lactase), Cellulose Gym, Xantham Gum, Sucralose, Caramel colour.
Manufactured in: USA.
Mix 1-2 scoops with 200-400ml of water or beverage of choice. Vary amount of liquid to taste.