Soodus
Laost otsas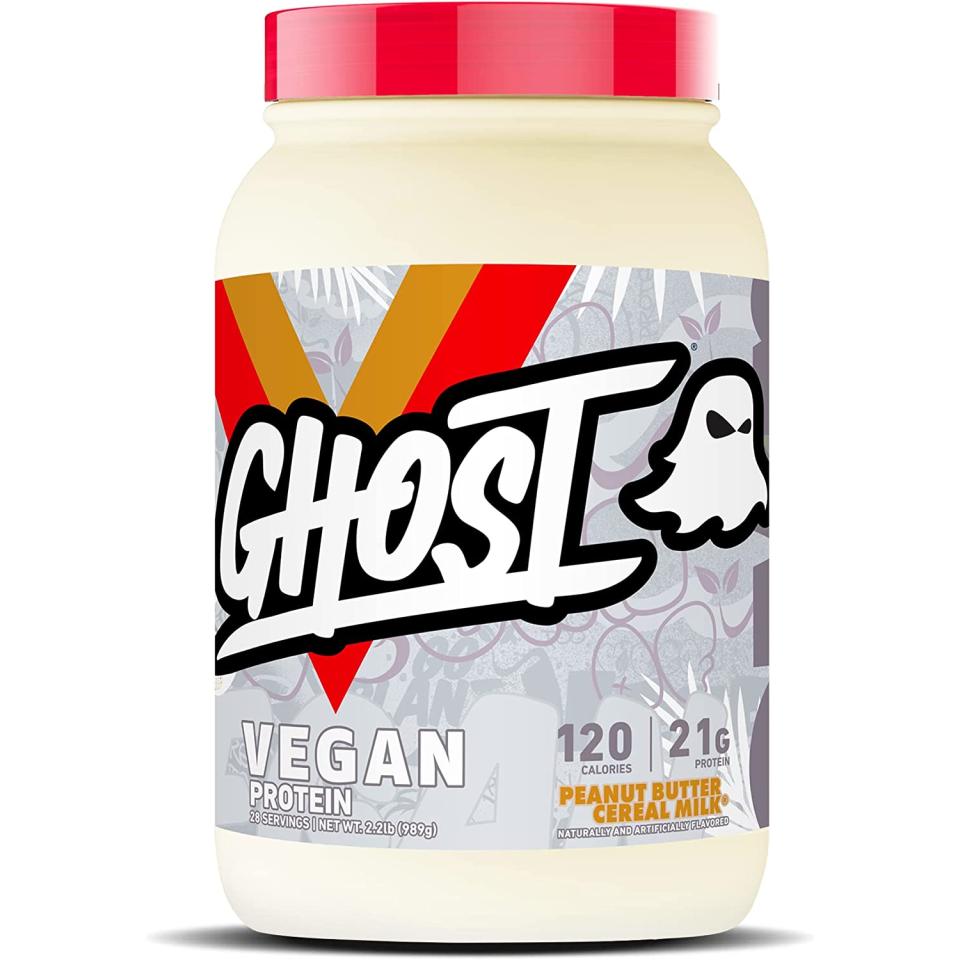 Zoom
GHOST® Vegan Protein combines a fully disclosed vegan protein blend (soy free!) with our legendary flavor(s) to deliver one ridiculously EPIC, plant-based protein product. Easy to drink, easy to digest...easy to become obsessed with. Enjoy legends.
GHOST® Full Disclosure Label
20G+ Protein from Pea, Organic Pumpkin & Watermelon Seed Protein
F*&#!ing Delicious
Promotes muscle repair after exercise
Supports muscle growth
Helps meet daily protein needs
Easy to drink and easy to digest
Vegan Protein that combines a premium, fully disclosed vegan protein blend with industry-leading flavors.
Every scoop of Ghost Vegan Protein contains 20G or more of pure vegan protein containing pea protein concentrate, organic pumpkin protein, and watermelon seed protein.
This supplement is suitable for vegans, vegetarians and especially for those who have an intolerance to soy-containing products
1 Serving Size: 1 Scoop (35.3 g)
Amount Per 1 serving %DV*
Energy Value 120 kcal
502 kJ **
Fat 1.5 g 2%
Saturated Fat 0 g **
Trans Fat 0 g **
Cholesterol 0 mg **
Sodium 380 mg 17%
Carbohydrate 6 g 2%
Fiber 1 g 4%
Sugars 0 g **
Added Sugars 0 g **
Protein 21 g 42%
Vitamin D 0 mcg **
Calcium 34 mg 2%
Iron 4 mg 20%
Potassium 165 mg 4%
* Percentage of Daily Value per one full serving.
** Daily Value is not established.
Ingredients / Other Ingredients: Pea Protein Concentrate, Organic Pumpkin Protein, Watermelon Seed Protein, Natural and Artificial Flavors, Peanut Flour (adding 1g Protein), Sunflower Creamer (high oleic Sunflower oil, tapioca starch, tapioca dextrin, natural flavors, d-Alpha Tocopherols) salt, sucralose, xanthan gum.
Allergens / Warnings: Contains peanuts.
Directions
Mix each scoop (serving) of Ghost Vegan Protein with 250-300ml of water or beverage of choice. Vary the amount of liquid to taste.