Laost otsas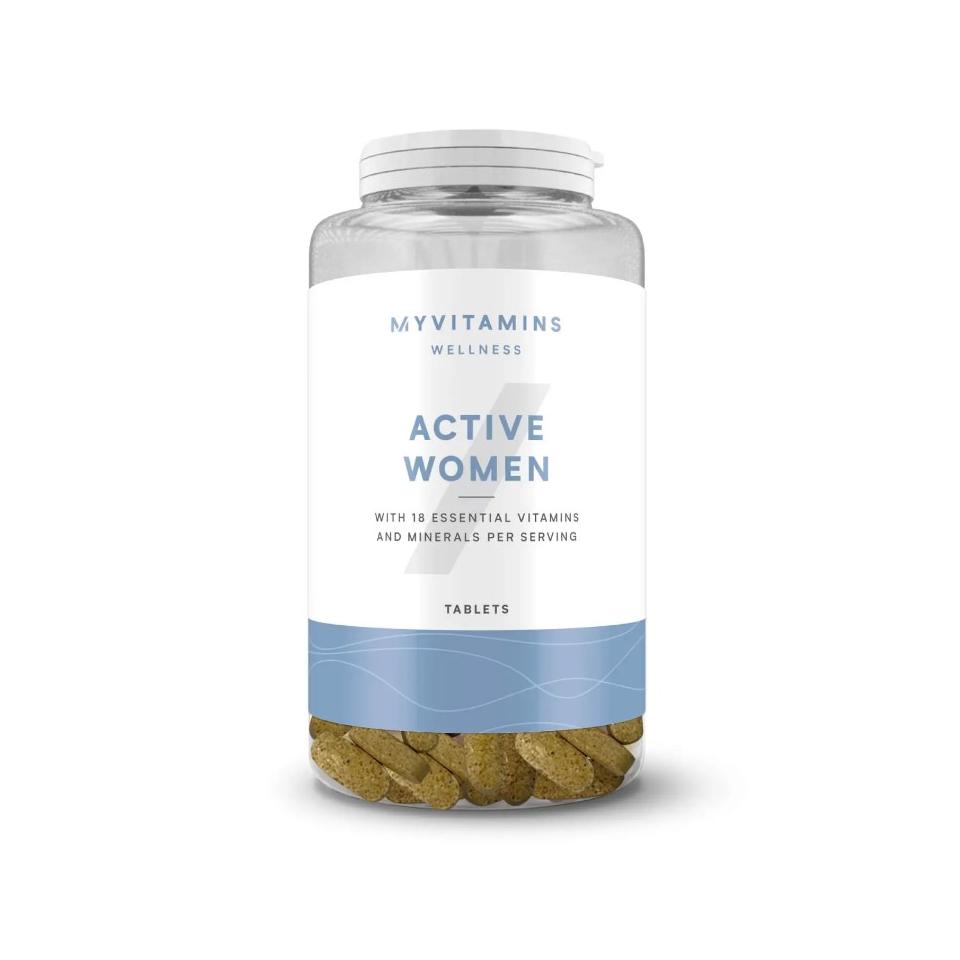 Zoom
Key Benefits
Natural support for a healthy lifestyle
Designed specifically for active women
Blend of vitamins, minerals & nutrients
Our Active Women Multivitamin is a comprehensive and convenient everyday vitamin tablet, developed specifically for women's unique nutritional needs.
It's a great way to boost your vitamin and mineral intake and complements your normal diet. Whatever your fitness goals, this blend is ideal to help you stay on top of your game and keep mentally sharp1 during a busy lifestyle.
Our Active Women Multivitamin contains specifically chosen ingredients that help your body perform at its best7 — from keeping your defences high after a tough workout,5 to supporting your metabolism.6
We've also added the digestive enzymes amylase and lipase, as well as super-popular plant extracts to help you feel invigorated and full of energy7 — important whatever your fitness ambitions.
Serving Size - 1 Tablet
Servings Per Container - 120 (120 Tablets)
Typical Nutritional Values
Per Serving *RI
Vitamin D 5 μg 100%
Vitamin E 32 mg 267%
Vitamin K 13 μg 170%
Vitamin C 40 mg 50%
Thiamin 6.3 mg 573%
Riboflavin 6.3 mg 450%
Niacin 12.5 mg 78%
Vitamin B6 6.3 mg 450%
Folic Acid 200 μg 100%
Vitamin B12 260 μg 104%
Biotin 75 μg 150%
Pantothenic Acid 25 mg 417%
Calcium 175 mg 22%
Iron 7 mg 50%
Zinc 7.5 mg 75%
Copper 0.25 mg 25%
Selenium 50 μg 91%
Chromium 48 µg 120%
Per Serving
Korean Ginseng Extract 1 g
Grape Seed Extract 312 mg
Royal Jelly 38.25 mg
Alpha Lipoic Acid 12.75 mg
Citrus Bioflavonoids 12.5 mg
Choline 12.5 mg
Bromelain 6.25 mg
Inositol 6.25 mg
Lipase 6.25 mg
Papain 6.25 mg
Beta Carotene 1.5 mg
Co Enzyme Q10 1.25 mg
Amylase 1.25 mg
Lutein 250 µg

Ingredients
Calcium Carbonate, Bulking Agent (Microcrystalline Cellulose), Vitamin C, Natural Vitamin E Powder, Panax Ginseng Extract 10:1 (Panax ginseng), Pantothenic Acid, Choline Bitartrate, Ferrous Fumarate, Potassium Chloride, Magnesium Oxide, Riboflavin, Royal Jelly Extract 3:1, Alpha Lipoic Acid Cirtus Bioflavnoid Complex, Anti Caking Agents (Magnesium Starate, Silicon Dioxide), Glazing Agents (HydroxyPropylMethylCellulose, Glycerine, Carnuaba Wax), Zinc Oxide, Vitamin B6, Thiamin, Beta Carotene 20%, Niacin, Inositol DC 95%, Lipase, Bromelian Extract (Ananas comosus L.), Papain Powder, Sodium Slelenite, Vitamin D2, Grapeseed Extract (Vitis vinifera), Co Enzyme Q10, Amylase, Copper Sulphate, Lutein (Tagetes erecta L.), Chromium Picolinate, Vitamin B12, Vitamin K1, Folic Acid, Biotin.
Allergens:
Made in a facility that handles Milk, Soy, Egg, Gluten and products thereof.
Suggested Use
Consume 1 tablet in the morning and 1 tablet in the evening. Best taken with food