Laost otsas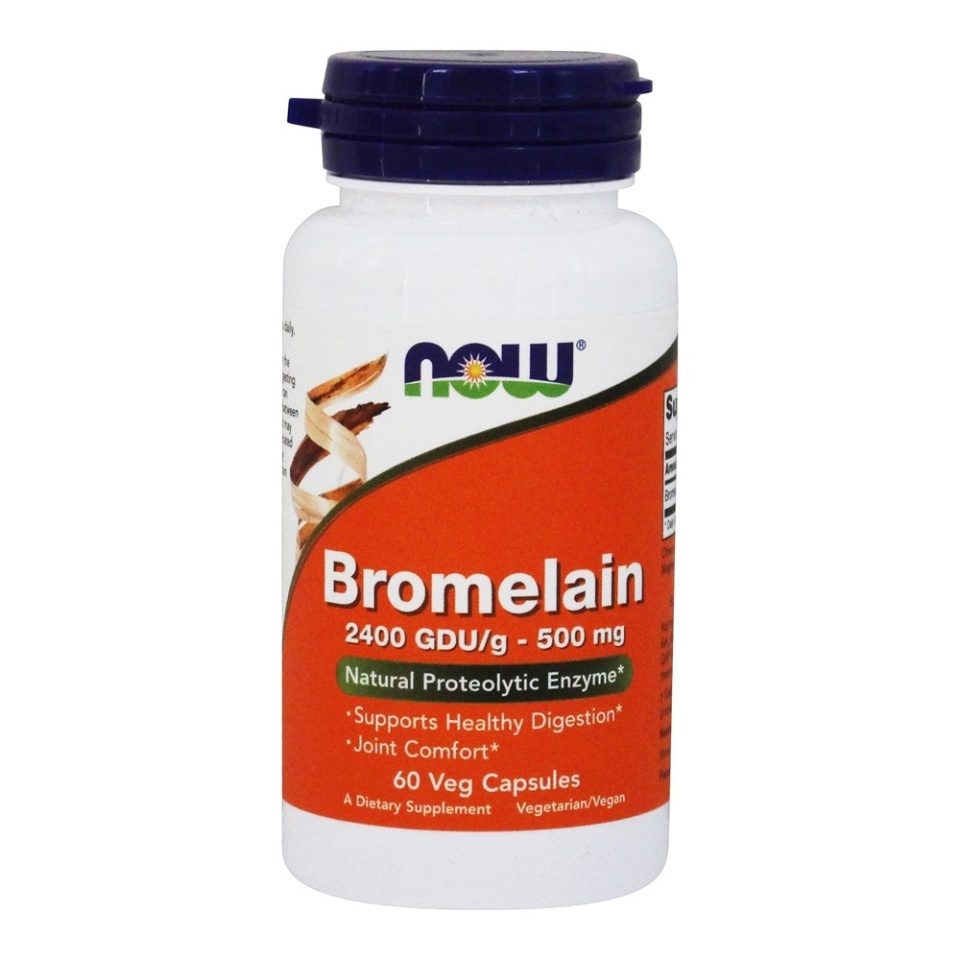 Zoom
Bromelain is a proteolytic (protein-digesting) enzyme derived from pineapple stems and is designed by nature to support gastrointestinal function and promote comfort in your muscles and joints, among other benefits. When taken with meals, it can support healthy digestion; when taken between meals, it helps support joint comfort and may help relieve temporary soreness associated with muscle overuse. Research indicates that Bromelain's anti-inflammatory activity occurs in several ways, inhibiting the formation of thromboxane, substances that promote clotting in blood vessels and can cause joint soreness and stiffness. This anti-inflammatory characteristic gives NOW Foods Bromelain a wide variety of health benefits, including digestive aid, pain and swelling, sinusitis/bronchitis, cardiovascular support, and cellular protection, and has even been shown to have potent antibiotic effects.
Potent Anti-Inflammatory Effects
Supports Healthy Digestion
No Side Effects Reported
Free of Gluten, Dairy, Eggs, Yeast, Soy, Sugar, Wheat, Fish/Shellfish, Corn, Preservatives
1 Vegetarian Capsule, 1-2 Times Daily
Helps Reduce Osteoarthritis Soreness
Vegan/Vegetarian
May Reduce Joint Discomforty
What's a GDU/g?
Bromelain's strength is measured in GDU, which represents gelatin-digesting units per gram – or how much protein a gram of bromelain can digest. This NOW formula has a high-potency Bromelain that can digest 2,400 gelatin (protein) units per gram. So, each 500 mg dose – ½ gram – has a GDU of 1,200 gelatin-digesting units. Bromelain strength of as little as 160 GDU per dose has shown to have beneficial effects, but the best results have been shown in this NOW Bromelain strength – and with no side effects observed in human clinical tests.
Anti-Inflammatory Effects
Bromelain has been shown to be helpful in healing injuries like sprains and strains, bruising, muscle injuries, and sports injuries that include pain, swelling and tenderness. Human clinical trials also have shown Bromelain to reduce postoperative swelling dramatically. Much of its anti-swelling ability goes to its activation of compounds that break down fibrin, which forms together to block off the area of swelling and can result in blocked blood vessels, inadequate tissue drainage, and edema.
Associated Benefits
It is again Bromelain's anti-inflammatory characteristics that have shown it to be effective for people suffering from sinusitis, bronchitis, and digestive issues. Research has found "good" to "excellent" results in 87 percent of sinusitis patients treated with Bromelain and has shown it to suppress coughing and reduce sputum in bronchitis patients. Bromelain also has been successful in supporting improved digestion, with activity in the stomach and small intestine.
Cardiovascular Support
Sometimes called a "natural blood thinner", Bromelain has been shown to prevent excessive stickiness of blood platelets, which has led to a few clinical trials reporting decreased symptoms of angina and blood clots. It was shown to help dissolve plaque and may increase permeability of vessel walls to oxygen and nutrients and increase blood fluidity, which also support cardiovascular health.
Supplement Facts
Serving Size: 1 Vegetarian Capsule
Servings Per Container: 60
Amount Per Serving %DV
Bromelain (2400 GDU/g) 500 mg *
*Daily Value Not Established

Other Ingredients: Cellulose (capsule), Maltodextrin, Rice Flour and Magnesium Stearate (vegetable source).
Contains no: Sugar, salt, yeast, wheat, gluten, soy, milk, egg, shellfish or preservatives.
Vegetarian/Vegan Product.
As a dietary supplement, take 1 Vcap with or between meals. Consider taking this product in combination with NOW Pancreatin and D-Flame.