Laost otsas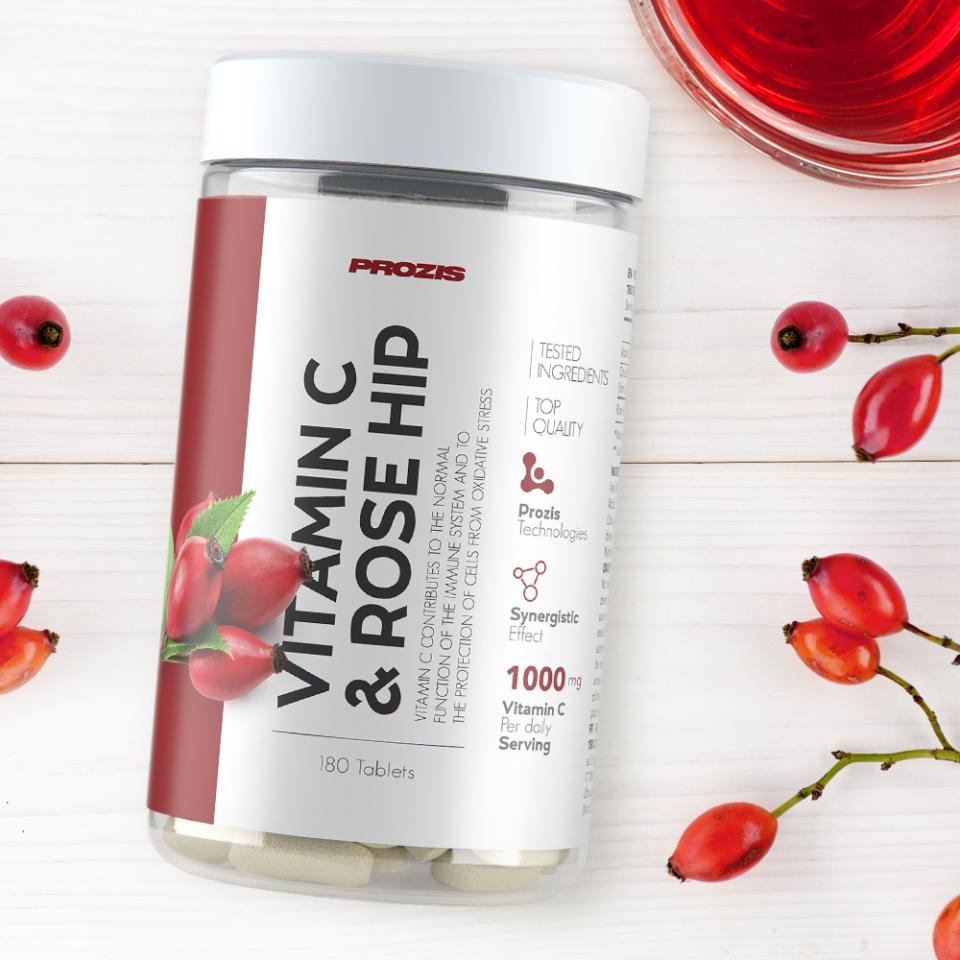 Zoom
The most powerful combination to fight ageing, boost the immune system and promote well-being
There are literally thousands of supplements that claim to improve your general health.
From obscure potions with supposedly miraculous ingredients that allegedly cure everything, to extremely expensive pharmaceutically engineered products that treat a specific condition, but cause two or three others, doing more harm than good.
In this highly competitive and complex industry, it becomes difficult to tell truth from lies, to know when we are buying something that is worth the money, and when we are being fooled with placebos.
That is why it is important to place your trust upon brands aand ingredients you can trust.
Prozis Foods knows this and developed Vitamin C 500mg + Rosehip , the ultimateantioxidant supplement with many other health promoting properties.
The multiple benefits of vitamin C
Vitamin C , also known as ascorbic acid, is widely recognized as one of the most beneficial substances know to man. It must be consumed daily, as the body doesn't have the capacity to synthesize or store it.
Vitamin C takes part in many body functions, such as in healing wounds, fighting infection and reducing cell damage. Its significant antioxidant action gives our tissues protection from the destructive effects of free radicals, which are elements that deteriorate our cells and contribute to the ageing process.
Studies have also shown vitamin C consumption has a protective effect against several conditions, such as the common cold, flu, cardiovascular disease, and several types of cancer.
Rosehip – the perfect partner
Rosehip is that round part you can find just below the petals of the rose flower. It contains the seeds of the rose plant and it is used to make medicine.
Rosehip is very rich in vitamin C , containing 20 times as much vitamin C as oranges, making it a very popular source of vitamin C .
However, clinical trials have shown rosehip also has beneficial effects in preventing and treating several physical conditions, such as stomach disorders that include stomach spasms, stomach acid deficiency, stomach irritation and ulcers. Rosehipis also used to treat diarrhea, constipation, gallstones, lower urinary tract and kidney disorders, fluid retention, high cholesterol, and high blood pressure.
Rosehip can also promote your immune function and improve your blood flow, providing a precious and comprehensive contribution to a healthier life.
By pairing these two amazing elements, Prozis Foods created Vitamin C 500mg +Rosehip, the best antioxidant and health boosting supplement currently in the market. It gathers the antioxidant and healthful benefits of vitamin C with the reinvigorating and preventive effects of rosehip , protecting your body and promoting your general well-being.
Prozis Foods Vitamin C 500mg + Rosehip highlights:
Helps prevent stomach disorders and cancer

Prevents common colds and flu

Protective antioxidant action

Fights ageing

Promotes cardiovascular health

Safe and tested ingredients

100% natural product
As a dietary supplement, take 1 tablet 1 to 2 times daily, preferably with meals.