Laost otsas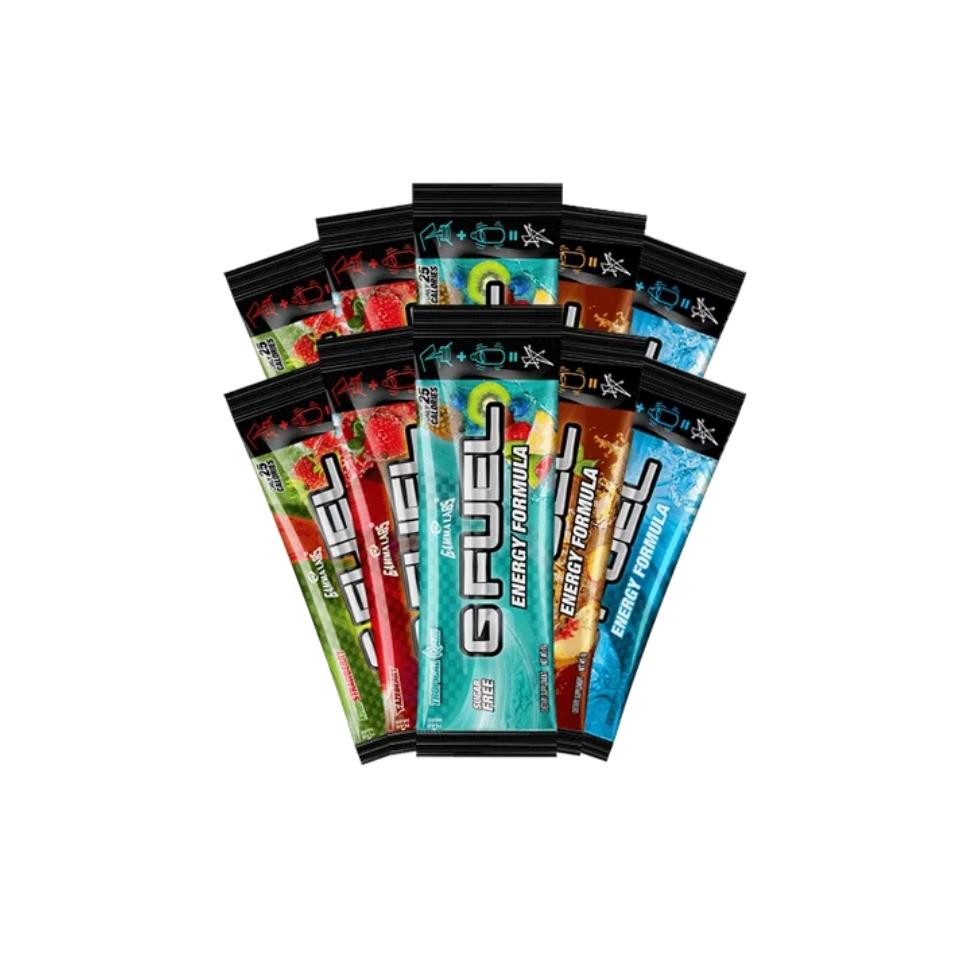 Zoom
G-Fuel Energy Single Serve Sachet - 7.4g
Like any 'game' changing product, G Fuel was created out of a desperate need for something better. When you've been playing COD, eating chips and listening to T-Pain for 12 hours straight, you can start to tire, you stop levelling up and may even 'gulp'... not make the top 3 in the scoreboard (unacceptable!)! Rather than restoring your lifeblood with a sugar filled energy drink that causes a quick spike, but follows with a horrible crash, G Fuel provides clean, delicious energy that keeps you going through your hardest sessions...'dragon blood' engaged!
The full G Fuel Energy range is made for everyone...elf, wizard, machine! Every flavour is sugar-free, fat free, has just 25 calories per serving and has a reinforced formula to enhance all your stats...
Energy Complex - Taurine, L-Citrulline Malate, Caffeine (140mg), Glucuronolactone, N-Acetyl-L-Carnitine HCL ...forget 1-up mushrooms, if Mario had a scoop of G Fuel, Bowser would be in the lava within no time!
0 Sugar - "Sugar makes you weak!" - Master Chief - Avoid crashing mid boss fight or set without compromising on the flavour.
Focus Amino-Fortified - L-Tyrosine, Choline Bitartrate, N-Acetyl-L-, Tyrosine, Adenosine-5 Triphosphate Disodium Salt (ATP). Focus is crucial for destroying your enemies both online and offline!
Packed With Antioxidants & Vitamin Fortified - 26mg of antioxidants from 19 fruits and vitamins B, C & E.Forget your poison resistance cape, G Fuel is packed with antioxidants and essential vitamins that stop you from missing those crucial workout sessions and Mario Kart marathons!
The fun doesn't stop there folks, our 'stripes' were drawn to the amazing range of craaaazy sweet flavours, from limited editions collaborations BUT there are so many to choose from, the stress is REAL, so we've tried to help as best we can by sorting you guys out with these single serve sachets!!
Why G Fuel Energy?!
Single Serving
25 Calories per serving
0g Sugar/Fat
Amino and antioxidant fortified
Epic flavour range
Whether you're stacking points, stacking weights; work or play, G Fuel helps you level up and get at it 24/7! Ready, player...GO!!
G-Fuel Energy Single Serve Sachet Ingredients & Nutritionals
Servings per stick - 1