Delicious high-protein pudding without added sugar with the taste of the good old days!
Sweet and creamy pudding is a delicacy that our grandmother has prepared for us. Who can say no to a delicious creamy pudding that tastes as good as a pudding from grandmother's time? Unfortunately, most of what is called pudding today does not have much to do with the pudding from the good old days. Today, pudding is unfortunately in most cases just a real sugar bomb with an artificial and kind of chemical taste.
For a traditional company like Frankys Bakery, that has specialized on the taste of the good old days since 1954, this situation is simply unacceptable and therefore we created a delicious pudding that really deserves the name pudding. The result of our efforts is Sweet Pudding, a pudding that tastes as good as pudding from grandmother's time. Of course, a delicious taste alone was not enough for us, as we believe that a delicious pudding should also be healthy. Therefore every serving of Sweet Pudding contains 14 grams of proteinand is free from added sugar. Instead of regular starch, which gives a pudding its creamy consistency, we use Waxy Maize™ starch and maltodextrin - two carbohydrate sources that are very popular in the field of sports and bodybuilding.
Instead of simply using cream or vegetable oils, Sweet Pudding contains MCTs (medium chain triglycerides) that are metabolized by your body differently from regular fats and are known to increase your metabolic rate. As you can see, sweet pudding does not have much to do with regular pudding, which consists of sugar and simple starch only. But the best is yet to come. You do not have to cook Sweet Pudding and then let it cool down in the fridge for an eternity. Just mix Sweet Pudding with water, shake well for 30 seconds and you will get a delicious, creamy, high-protein pudding you'll love.
When creating Sweet Pudding, we did not confine ourselves to the traditional flavours of pudding, but asked our flavour experts to be creative. The result is well over 30 flavours, ranging from apple cinnamon to white chocolate strawberry or Oreo. This will make sure that everyone will find their favourite flavour. But all of these flavours are so delicious that we firmly believe that you can not wait to taste them all.
Sweet Pudding by Frankys Bakery - a delicious high-protein pudding that is sugar-free and tastes as good as made by your grandmother.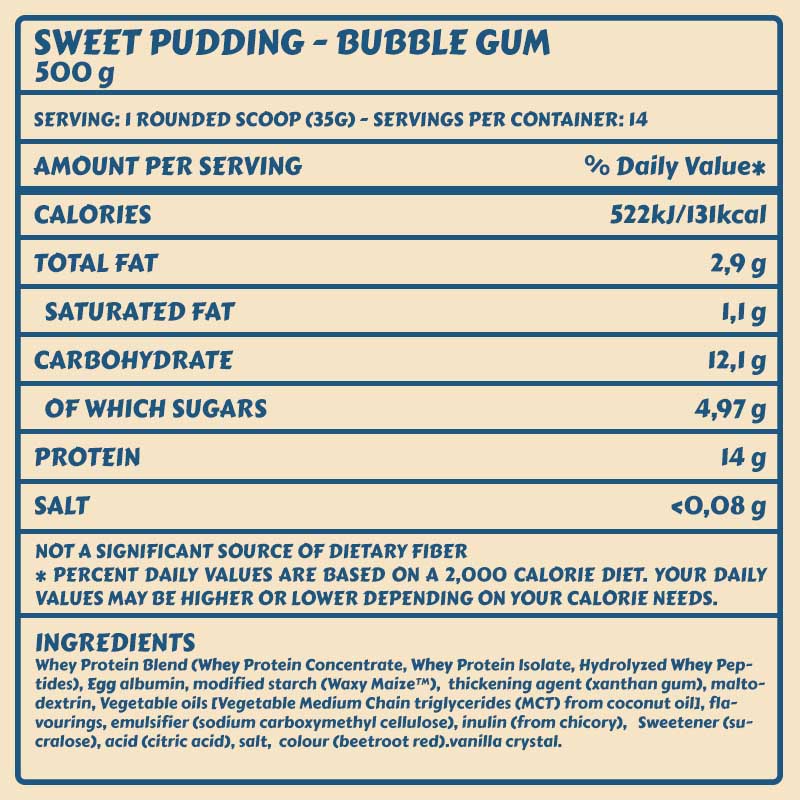 Mix in a shaker bottle: 1 measuring scoop (35 g) with 150 ml cold water or skimmed milk. Shake well for 30 seconds. As a food supplement, take 1 serving daily – any time - anywhere.